The crowdfunding charts: A portable VR camera, a kid tracker, and smart mirror

Written By Ellis Frederick
Another week has come and gone, and we've got brand new crowdfunding campaigns for you to take a look at. From a virtual reality camera to sport glasses originally designed for the U.S. Air Force, here's what we found on crowdfunding websites this week.
What campaigns hit crowdfunding this week
PKids on Indiegogo
Started: June 30
Goal: €30,000 ($33,307.05)
Raised As of July 3: €4,738 ($5,260.29)
Wearables for children have become increasingly popular, and at the center of such devices is safety. PKids is an eCall wearable "smartband," designed to keep kids safe when they're not being actively supervised. It has features such as water fall alerts, panic buttons, and GPS tracking. You can see all of this phone an iOS or Android device thanks to Bluetooth connectivity.
It's not just great for kids, but for senior citizens, pets, and valuable items as well. Not to mention, the bands come in a bunch of cute colors as styles, making them fun to wear. This Madrid-based startup has 38 days left to reach its goal of €30,000 ($33,307.05).
Sphericam 2 on Kickstarter
Started: June 30
Goal: $150,000
Raised As of July 3: $119,786
We've been waiting for a portable, easy-to-use virtual reality camera. Introducing the Sphericam 2: a tennis ball-sized spherical camera that can capture 360-degrees of footage in high definition. In one little ball, there are six lenses, WiFi connectivity, eight tripod mounts, four microphones, and more.
This Kickstarter Staff Pick is bound to reach its fundraising goal within the next week or so. Right now, if you donate $1,499, you can get your very own Sphericam 2 at an early bird price.
What campaigns are hot this week
Deus Ex Aria on Kickstarter
Started: June 18
Goal: $100,000
Raised As of July 3: $133,494 (goal reached!)
This is something we love to see: New technology drawing inspiration from and building upon other wearables. Deus Ex Aria is a set of sensors that let you control Android Wear and Pebble Time smartwatches with hand gestures. For instance, a snap of the fingers can turn the watch on and off sleep mode.
The product's team is based in London, but the technology was built in Shenzhen, China with the help of hardware accelerator HAX. Funds raised on Kickstarter will go towards the production of Aria. If you're interested, check it out above.
CTRL ONE on Indiegogo
Started: June 29
Goal: $20,000
Raised As of July 3: $57,333 (goal reached!)
CTRL ONE smartglasses are designed to change from clear to dark lenses depending on factors like lighting and speed, all in the blink of an eye. The idea came from professors at Kent State University in Kent Ohio, who were asked by the U.S. Air Force to design the product. Now, it's entering the market at full force as a sport product.
CTRL ONE made a spectacular entry into the crowdfunding world. In just four days, the campaign has raised well over its initial goal of $20,000. When you have a product this professional that's endorsed by 2010 Tour de France champion Andy Schleck, it can't be too hard to get attention.
What campaigns could use some love this week
ReflectMe on Indiegogo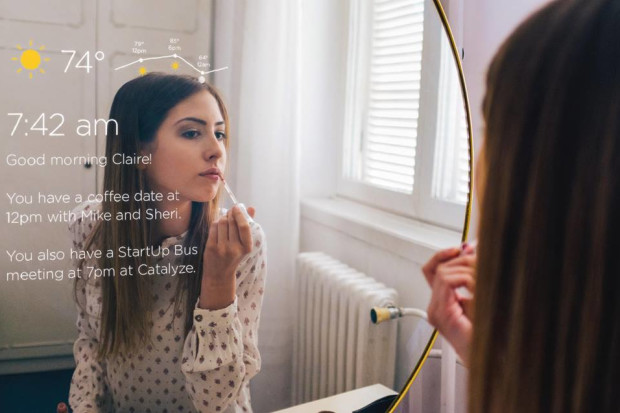 Started: June 8
Goal: $500
Raised As of July 3: $265
What if our mirrors were smart enough to talk to us, à la Snow White? This Indiegogo campaign sort of makes that possible. ReflectMe was conceived by a team in Chicago at a startup bootcamp in Akron, Ohio. Using facial recognition, the mirror is able to show each individual user's calendar and tasks for that day.
It seems like this campaign is aiming for its first round of funding to create traction, but doesn't have a product quite yet. Still, this is an exciting new concept that has been a fantasy for ages. Maybe ReflectMe can make this dream a reality.
Yecup on Indiegogo
Started: June 9
Goal: $40,000
Raised As of July 3: $27,706
So you're in a meeting, far away from a microwave, when you take a sip of your morning coffee and realize it's gone cold. Not to worry — Yecup is here to help. Using Bluetooth connectivity, you can control the temperature of the beverage in your Yecup from a smartphone app. Self-heating cups have been a reality for quite some time, but they've never been this smart.
Maybe just heating up beverages isn't enough to entice buyers. So Yecup also has a camera-controlling button and a USB port to charge your phone with. Considering how quickly iPhones can die, it may be worth it. Donating $69 will get you a mini Yecup, while $80 will get you a full-sized one.
---
---
Tags:
activity tracker
,
Crowdfunded
,
Featured Items
,
gps locator
,
HomePage Featured
,
smartglasses