New study says "Generation Mobile" suffers major guilt — and wearables don't help

Written By Wearables.com
Have you ever used your smartphone to text your daughter while at work? Conversely, maybe you've responded to work emails while at home. If so, did you feel bad about it?
You may be suffering from mobile guilt if you did. According to a global study from MobileIron, 58 percent of Generation Mobile (Gen M) workers feel guilty for using their devices to blur the lines between work and personal life. Being so connected, it seems, has a downfall. And with wearables regularly passing through workplace doors, there may be even more time spent feeling remorseful.
"Smartwatches, such as the Apple Watch, are expected to be very popular," says Bob Tinker, CEO of MobileIron. "These wearables will increase our connectedness and, possibly, our guilt about mixing our work and personal lives."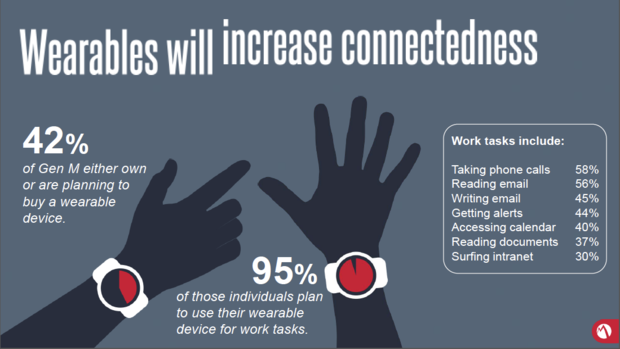 The MobileIron study says that 42 percent of young mobile workers surveyed either own or plan on owning a wearable, and almost all of them plan on using that wearable for "work tasks." This could include taking phone calls, reading emails, writing emails, meeting reminders and other alerts, or accessing calendars.
MobileIron believes that employers should be the group to set the example as to why it's important to maintain a balance between professional and personal activities. "To recruit and retain the best and brightest employees, companies must establish policies that are aligned with the way employees want to work and live," says Tinker.
The study suggests, for instance, that a CEO should not be sending emails at 2 am. A note in the middle of the night would imply work encompasses all hours, and personal lives may suffer as a result. MobileIron also says business data should remain separate from personal data, "no matter who owns the smartphone or tablet."
"The Gen M study, to us, reflects the emerging, connected culture of modern business," says Tinker. "Forward-thinking companies embrace this change and understand that mobile is as much an HR program as a technology initiative," he concludes.
The post New study says "Generation Mobile" suffers major guilt — and wearables don't help appeared first on Wearables.com.
---
---
Tags:
Apps
,
Featured Items
,
Internet of Things
,
smartwatch
,
Smartwatches