Joe Boxer's inactivity tracker is part of cheeky new marketing campaign

Written By Wearables.com
Well, there really is a wearable for everyone.
With activity trackers like Fitbit and Jawbone becoming more popular by the day, Kmart saw a marketing opportunity for its pajama brand Joe Boxer. The result is Joe Boxer's Inactivity Tracker, a hilarious parody of fitness-oriented smartbands.
Kmart spokeswoman Jamie Stein says the impetus for the "inactivity" campaign came from company's desire to "extend the [Joe Boxer] brand" beyond the holiday season. "The whole idea is to turn the tracking trend on its ear," she told Advertising Age. "It plays off of Joe Boxer's irreverent brand personality really well."
And, yes, Inactivity Tracker is an actual device designed by Joe Boxer. It can connect to your smartphone and keep track how much — rather, how little — you're moving. There's an app you can download that's compatible with the band as well.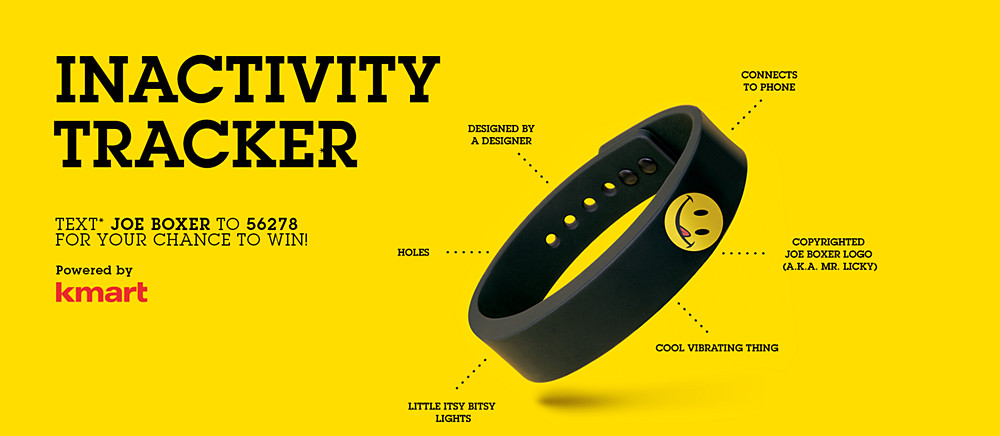 This promotion includes an hour-long YouTube video called the 2015 Joe Boxer Lounger Games. The parody video shows two guys "competing" against each other in chair lounging. Kmart's promoting the Inactivity Tracker with this video and the hashtag #chillhard.
Since this is part of a marketing campaign, Joe Boxer's Inactivity Trackers are not for individual sale. Instead, the limited edition device was given away as a free gift with select Joe Boxer products. The first 50 customers to buy Joe Boxer pajamas Kmart's Astor Place location in New York City received one of the "smartbands" with their purchase.
If you still want an Inactivity Tracker, you can text the words "JOE BOXER" to 56278 to win one.
The post Joe Boxer's inactivity tracker is part of cheeky new marketing campaign appeared first on Wearables.com.
---
---
Tags:
activity tracker
,
Activity Trackers
,
Calorie Tracker
,
Featured Items
,
Fitness Band
,
Fitness Wearables
,
Health Wearables
,
k mart
,
Step Tracker